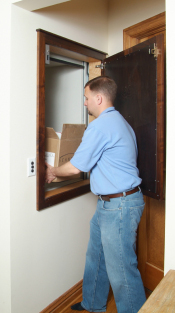 Quite often, one of the hardest tasks in a home is bringing items up between floors. Depending on the size of the home, items that are carried up the stairs can include things like the laundry, groceries, or cleaning supplies. The process of carrying these types of things up the stairs can not only be tiresome, but it can also increase the risk of a fall, so many people choose to use a dumbwaiter in their home.
Dumbwaiters are very similar to elevators and can make housework much easier. They are much smaller though and most are not made to carry people, instead being used only for transporting non-living goods and supplies. They are also much smaller than an elevator and take up much less space, with the average residential dumbwaiter taking up only about 4 square feet of space, which is opposed to an elevator, which will typically take up at least 30 square feet of space.
Most people today opt to go with electric dumbwaiters, which can be installed into existing homes or into new homes as they are being built. They require a vertical space between floors, which the dumbwaiter will move in. This space is called a dumbwaiter shaft and is much smaller than the shaft required for a regular sized elevator.
Usually a track system is ran the length of the shaft. The dumbwaiter car, which is the part that holds items as they move between floors, is attached to the track. This helps keep it stable, well balanced, and increases safety. At the top of the shaft, a pulley drive system is responsible for raising and lowering the dumbwaiter through the home.
With most older dumbwaiters, the most difficult part of the installation involved installing and aligning the drive system at the top of the shaft. This process has been simplified with some of the more popular dumbwaiter kits, which come with the drive system, dumbwaiter car, and a good portion of the electrical system already installed on a short piece of track. This section of track is placed onto the top of the shaft, which means in one step, you can finish one of the hardest parts of the install.
Dumbwaiter kits like the one described above greatly simplifies the installation process, but it can still be a little bit complicated, so many people decide to go with a professional installation. Even if you go with a professional installer, you can still save money by using an improved dumbwaiter kit.
Comments are off for this post